I've been pretty busy the past few months with various events and workshops so thought I'd share some pics of what I've been up to!
First up, I took part in the Edinburgh International Book Festival's Booked! Festival in Aberdeen. Across two days I ran Doric Gruffalo and cut-up poetry activities for primary schools as part of my role with Aberdeen City Council's Creative Learning Team. On the first evening, I also read from my work in progress novel, Quines at Sea, at the Unbound cabaret event, performing my work alongside Peter Arnott, Wayne Price, Helen Lynch, Joshua Seigal, Allan Burnett and James Oswald.
The following Sunday I read more of Quines at Sea at a packed-out Pushing Out the Boat magazine event at The Blue Lamp. It was great to test out new passages from the novel across this week, to assure me about the direction it's going in. It was also great to see so much support for the magazine as it heads towards its 14th issue. I'm on the prose panel so I'm looking forward to reading through all of the submissions across the next month!
As part of my work with Creative Learning, I've been coordinating and facilitating a CPD programme for emerging and established writers in the Northeast called The Writers' Room. I promise to do a proper blog about it soon, but for now, here's a pic of an open event we ran with theatre production company, 10ft Tall, which explored Performing Your Work.
I then headed for a week's retreat in Moniack Mhor. This was an untutored retreat where I could get on with your own work in the company of other writers. It was great to hear what everyone else was up to and to talk about my work to folk outside of the Northeast. I'm especially looking forward to seeing new work from Zoe Venditozzi and Helen MacKinven in particular, who were a great laugh throughout the week!
This Autumn, the Granite writers have regrouped after the epic National Theatre of Scotland performance in March. We're now working on our own projects as well as writing smaller pieces to form part of a play for performance next year. Here are some pics from a hilarious session we did with the Granite Theatre group, who we will be devising work with across the next few months.
At the beginning of October I was asked by IntoFilm Scotland to do a reading for P5 - S2 pupils of The Sleekit Mr Tod, which is Roald Dahl's The Fantastic Mr Fox in Scots. This was followed by a screening of Wes Anderson's Fantastic Mr Fox film and then the school pupils were asked to write their own review in Scots which I helped them with. It was great to pick winners for the review competition, who will all be receiving Sleekit Mr Tod goodie bags from IntoFilm and Black & White publishing.
Later that day, I ran a 'Messages'-themed beginners' poetry workshop for Aberdeen City Libraries, which explored their postcard collection for inspiration and celebrated National Poetry Day. I then ran a beginners' prose workshop a couple of weekends later which explored the libraries' Treasures collection, including 'How to Stamp Out Typhoid' booklets from 1964 following Aberdeen's typhoid outbreak, and Cooke's Royal Circus programmes from the late 19th century. The Treasures collection is currently on display in the library in anticipation of the Central Library's 125th anniversary next year!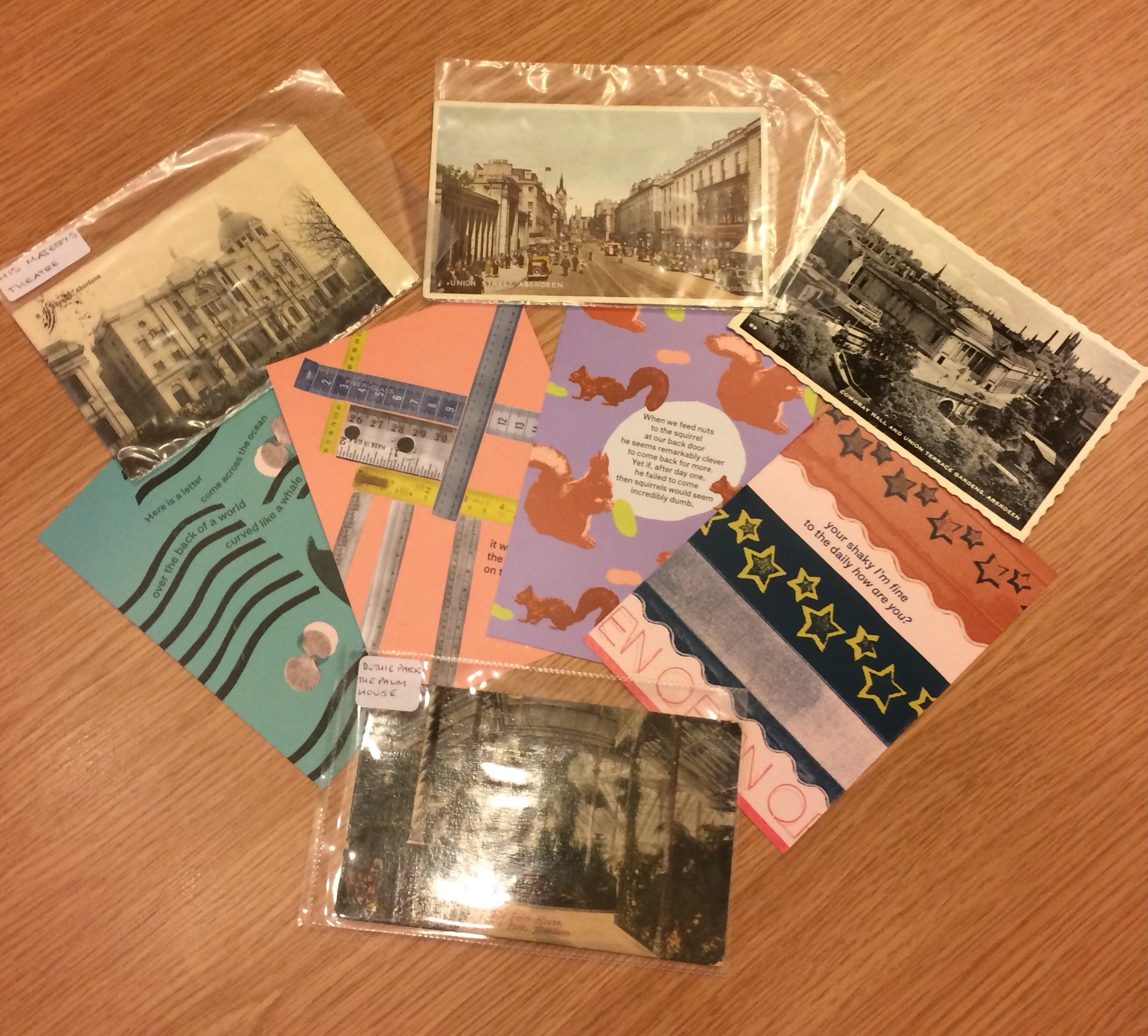 My last event in October was a beginners' Doric workshop for Aberdeen University students. This was mostly attended by students from other countries who are dumfoonert by the Northeast Scots dialect. We had a lot of fun watching clips from Brave and Aberdeen Student Show, as well as guessing the meaning of a selection of common Doric words.
Next month I'll be reading as part of the Polari Literary Salon on Tour in Edinburgh on November 4th at the Assembly Roxy along with Val McDermid, Mari Hannah, Karen McLeod and Paul Burston. I'll also be heading back to Bulawayo in Zimbabwe for a week to follow up on the Mother's Journey project I did in conjunction with Immpact and United Bulawayo Hospitals last year, so there's still plenty to get excited about in the rest of 2016!